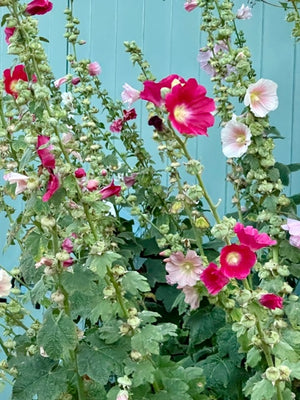 Gardeners Cottage Blakeney Hollyhock Seeds 2023
Sale price Price $0.00 Regular price Unit price / per
Gardeners Cottage Blakeney Hollyhocks
Native hardy perennial hollyhock that grows in Blakeney
Biannual flowers in the second year and for several years after 
Self-seeds abundantly
Single open flowers that are bee-friendly 
Cottage garden favourite
Very easy to grow, and can be sown directly by scattering them on the surface where you want them to germinate. 
The free hollyhock seed offer is limited to one packet of seeds per order.
For the past 18 years, we've been cultivating these robust and dependable Blakeney hollyhocks from seed. Their resilience and reliability and prolific flowering have stood the test of time. They also self-seed abundantly. 
If you're eager to nurture hollyhocks in your garden, take a moment to read our blog posts explaining how to grow hollyhocks from seed. Feel free to leave a comment on either that post or another if you're interested in obtaining some seeds or you can now order them online here.
The 50 Hollyhock seeds packet is free you just pay for the postage and packing and the online credit card or debit card processing fee. If you would like a larger volume of seeds these are now available to order. 
This year, we are hoping to have an abundant supply to share, as the hollyhocks have grown well, and produced a good amount of seed.  
For a visual guide on growing hollyhock from seeds, head over to our Gardeners Cottage Blakeney YouTube channel.